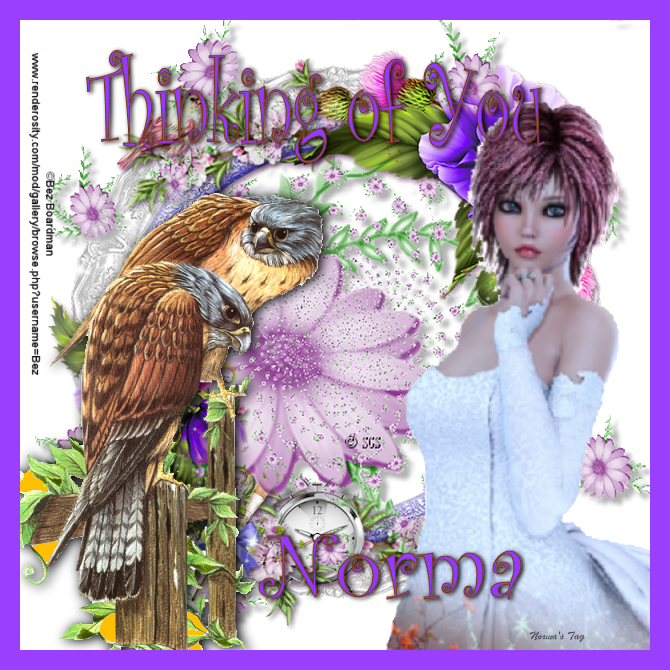 Todays tag is from Liz's Challenges
Thanks Liz for all the goodies to make tags.
Hi all, it's nice today, but a little overcast off and on.
Liz, I am still using PSP8 but things change all the time. Now I have to hold down the shift key to make the
functions work. I liked PSP 9 but it somehow didn't want to work here. I still have all the CD's too.
Well, hearing aid guy called and wanted to change it
again to tomorrow or Thursday.
I let out a big sigh........very loudly (the extent of my rudeness at this time.) Hopefully I can get done with this dude.

He said so you wanted to upgrade and I said I changed my mind. No way I want to deal with him after all the
cancellations.
I said we have an appointment at 11 or 12, so he changed to 2:30 this afternoon.
The reason I stick with the company because they do come to me and I only pay around $350 as opposed to
8-$12,000 others around here are paying. That is what Barbara
across the Street paid.
Our Insurance Blue Cross and Blue Shield paid the rest after I pay $350. So I have to have the
Patience to endure this rudeness. After he is done, I will ask for another person or go to them if they have an office.
The aids are as good as my first one if not better, Those I paid around 1900 for me paying 800 and the rest BC/BS.
So, I am happy with keeping these. I don't wear them all the time sitting here alone in the living room on computer.
Rita invited us over for dinner last night..We had a good time.
She is better than family and so much like us in many ways.
We brought over water, beer and muffins.
Leo is in his man cave except in the mornings.
Nice to see everyone. We each visit each other every couple of hours. LOL
Take care, be well be safe and smile a whole lot, laugh if you
get a chance..
Hugs,